The European & Developing Countries Clinical Trials Partnership (EDCTP) funds clinical research to accelerate the development of new or improved drugs, vaccines, microbicides and diagnostics against HIV/AIDS, tuberculosis and malaria as well as other poverty-related infectious diseases in sub-Saharan Africa, with a focus on phase II and III clinical trials.
EDCTP Overview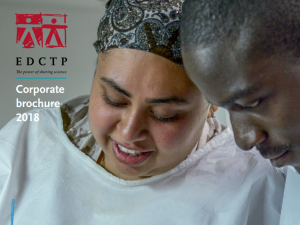 Our updated brochure on Who we are, What we do, and How we work – with an overview of the project portfolio 2014-2017
Read more
April Newsletter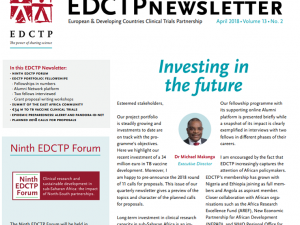 Read about TB vaccine investments, epidemic preparedness projects, the fellowship programme and the planned 2018 calls for proposals.
Go to Newsletter
Attend workshop!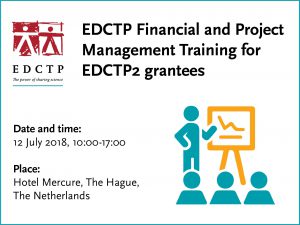 Workshop for EDCTP grantees on financial and project management of EDCTP2 grants | The Hague, the Netherlands, 12 July 2018. Placement (75 places) in order of application.
More information
More information
Latest news
10 July 2018
MTBVAC in Newborns: kick-off meeting in South Africa
The kick-off meeting of the EDCTP-funded project MTBVAC in Newborns took place in Cape Town, South Africa on 6-7 June 2018. The candidate TB vaccine MTBVAC was developed by researchers from the University of Zaragoza, Spain, and the Institut Pasteur…
Read more
7 July 2018
African countries to assess their health research systems
In partnership with the Ghanaian Health Service, EDCTP will organise the kick-off meeting (Accra, 9-10 July 2018) for a project to assess African health research systems. The main objective of the meeting is to prepare a survey of national health…
Read more