The European & Developing Countries Clinical Trials Partnership (EDCTP) aims to accelerate the development of new or improved drugs, vaccines, microbicides and diagnostics against HIV/AIDS, tuberculosis and malaria as well as other poverty-related infectious diseases in sub-Saharan Africa, with a focus on phase II and III clinical trials.
Newsletter July 2017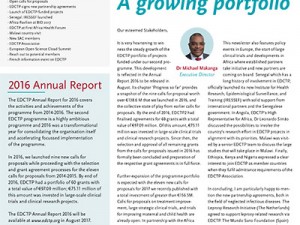 Overview of open calls for proposals for a growing portfolio, new partnerships, new clinical trials launched, African initiatives and new members of the Scientific Advisory Committee. Subscribe here.
Read more
Summer Update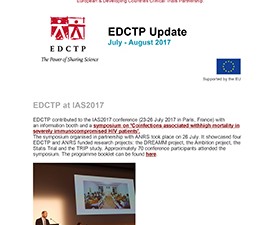 The EDCTP Update is published monthly in English. Subscribe here.
Download from Publications
Annual Report 2016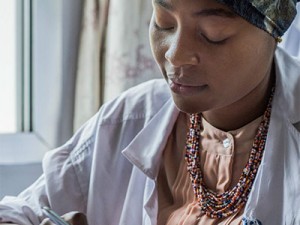 " EDCTP2 is a highly ambitious programme and 2016 was a transformational year for
consolidating the organisation itself and accelerating focused implementation of the programme. "
Link to download page
Latest news
20 September 2017
Nigeria becomes 29th member of EDCTP
EDCTP is pleased to welcome Nigeria as its 29th member country.  As a member of the EDCTP Association, it will…
Read more
15 September 2017
Save the date! 17-21 September 2018: Ninth EDCTP Forum
EDCTP's ninth biennial forum will be held in Lisbon, Portugal between 17 and 21 September 2018. The conference will be…
Read more