The European & Developing Countries Clinical Trials Partnership (EDCTP) aims to accelerate the development of new or improved drugs, vaccines, microbicides and diagnostics against HIV/AIDS, tuberculosis and malaria as well as other poverty-related infectious diseases in sub-Saharan Africa, with a focus on phase II and III clinical trials.
Newsletter April 2017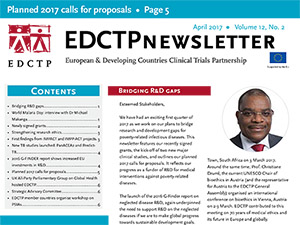 See overview of the planned calls for proposals in 2017 and first results of EDCTP2 projects! Subscribe here.
Read more
EDCTP Update June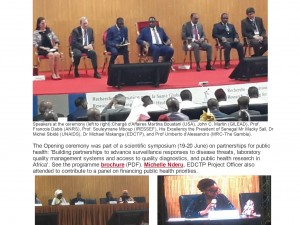 The EDCTP Update is published monthly in English. Subscribe here.
Picture of launch of IRESSEF, Senegal.
Download from Publications
Work plan 2017

Read the EDCTP Annual work plan for 2017. It contains the calls for proposals of 2017 but also other activities related to stakeholder meetings, financial training for grantees, advocacy and programme monitoring. It provides also an overview of clinical research projects funded by EDCTP member states and considered to be part of the programme (PSIA's).
Link to download PDF
Latest news
21 July 2017
EC Call for Tender: burden of diseases preventable by maternal immunisation in sub-Saharan Africa
The European Commission Directorate-General for Research and Innovation issued a call for tender on 14 July 2017 on the topic…
Read more
6 July 2017
2017 calls for proposals
EDCTP is launching 11 calls for proposals in 2017 to support clinical research and capacity building in sub-Saharan Africa. These…
Read more