EDCTP-SAMRC Joint satellite symposium at AIDS2018
26 Jul 2018 07:00
-
26 Jul 2018 08:30
AIDS 2018 RAI Conference Centre | Hall 11B | session THSA02
Type of event
International meeting
Scope
HIV-interventions, Sub-Saharan Africa
Breaking down barriers: HIV interventions in sub-Saharan Africa
At AIDS2018, EDCTP and the South African Medical Research Council will organise a joint satellite symposium on HIV interventions in sub-Saharan Africa with project presentations and a panel discussion.
The symposium will be chaired by Prof. Quarraisha Abdool Karim (Centre for the AIDS Programme of Research in South Africa)  and Prof. Catherine Hankins (Amsterdam Institute for Global Health and Development, the Netherlands).
Download programme book (PDF).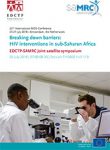 Thursday 26 July 2018, 07:00-08:30
Hall 11B – Session THSA02