Dr Glenda Gray and Dr Graeme Meintjes receive the 2013 EDCTP Awards for scientific excellence
The European & Developing Countries Clinical Trials Partnership (EDCTP) has given its Outstanding African Scientist Award to Dr Glenda Gray (University of Witwatersrand and Medical Research Council, South Africa). Dr Graeme Meintjes (University of Cape Town, South Africa) received the Rising Star African Scientist Award.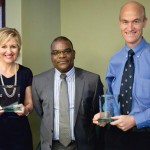 The awards consist of a recognition trophy and a cash prize of 10,000 Euro for the Rising Star award and 20,000 Euro for the Outstanding Scientist award respectively. These awards aim to further the research programmes of the winners and support other relevant research-related activities. The award ceremony took place at the EDCTP Africa Office in Cape Town, South Africa.