The European & Developing Countries Clinical Trials Partnership (EDCTP) funds clinical research to accelerate the development of new or improved drugs, vaccines, microbicides and diagnostics against HIV/AIDS, tuberculosis and malaria as well as other poverty-related infectious diseases in sub-Saharan Africa, with a focus on phase II and III clinical trials.
Annual Report 2018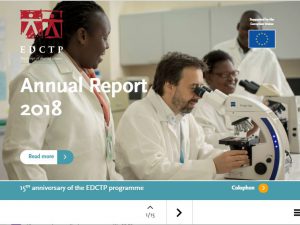 The EDCTP 2018 Annual Report has been published in a new digital format.
Introductions by Dr Mark Palmer, Dr Michael Makanga, portfolio infographics and project highlights. As PDF downloads: Financial Statements 2018 and Summary Annual Report 2018
Also via Publications
EDCTP 2003-2018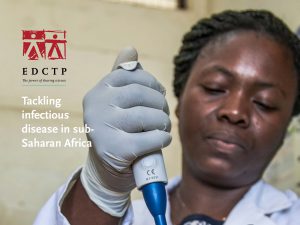 Overview of selected EDCTP-funded clinical studies for medical interventions against poverty-related infectious diseases, 2003-2018. EDCTP succeeds in bringing together researchers and institutions in Europe and Africa.
Read more
EDCTP Fellows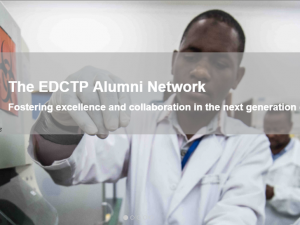 The EDCTP Alumni Network has a digital platform to connect and facilitate the collaboration of former and current EDCTP fellows. The Alumni Network was launched in 2017 and the platform in 2018.
Read more publications
Latest news
2 December 2019
World AIDS day 2019: Clinical research that reaches key populations
According to World Health Organization (WHO) statistics, in 2018 an estimated 1.7 million people were newly infected with HIV and there were 0.8 million HIV-related deaths. Most of these deaths are in low and middle-income countries, particularly in sub-Saharan Africa,…
Read more
12 November 2019
Novartis will support five Career Development Fellowships on maternal and child health
Novartis and EDCTP are pleased to highlight the sponsorship agreement to support research capacity development in sub-Saharan Africa. Within the framework of EDCTP's 2019 Career Development Fellowships, Novartis will jointly fund fellows that aim to conduct research in the field…
Read more